In Memoriam – Dr. Beth Levine
Beth Levine, an esteemed autophagy researcher, professor, and a renowned doctor, died on 15th of June 2020, at the age of 60 after a long battle with cancer. She was the director of the Center for Autophagy Research and Charles Cameron Sprague Distinguished Chair in Biomedical Sciences at the University of Texas Southwestern Medical Center, and was one of the most respected and best-known scientists in the field of autophagy.
Beth Levine was born in Newmark, New Jersey on April 7, 1960. Levine began her journey at the Brown University where she received an A.B. Magna Cum Laude honors in 1981 for French studies. She also attended medical school at Cornell University Medical College where she subsequently obtained her MD in 1986. She served as a resident at Mount Sinai NYC Hospital in internal medicine until 1989. Afterwards, she joined the lab of Dr. Diane Griffin at Johns Hopkins University as a postdoc, working on infectious diseases and the neurobiology of viral pathogens. In 1992, she joined Columbia University, and served as Columbia's Director of Virology Research. In 2004, she moved to the University of Texas Southwestern Medical Center to become Chief of the Division of Infectious Diseases, and in 2011 the Director of the Center for Autophagy Research. She also served as an Investigator at Howard Hughes Medical Institute beginning in 2008.
She has received numerous awards/honors in recognition of her scientific achievement, including: The American Cancer Society Junior Faculty Research Award (1994); election into the American Society of Clinical Investigation (2000); the Ellison Medical Foundation Senior Scholars Award in Global Infectious Diseases (2004); elected member, American Association of Physicians (2005); appointment as a Howard Hughes Medical Institute Investigator (2008); Edith and Peter O'Donnell Award in Medicine (2008); elected fellow, American Association for the Advancement of Science (2012); election into the National Academy of Sciences (2013); election into the Academy of Medicine, Engineering and Science of Texas (2013); the ASCI Stanley J. Korsmeyer Award (2014); Phyllis T. Bodel Women in Medicine Award, Yale University School of Medicine (2018); recipient, Barcroft Medal, Queen's University Belfast (2018 ).
Her discoveries:
Beth Levine dedicated her life to understanding the regulation and functions of autophagy, the body's process of degrading and recycling cellular components.  A pioneering discovery made by Levine was that connecting autophagy and cell survival pathways with beclin 1 (J. Virol. 1998). This discovery led to an avalanche of substantial work and research. Already in 1999, Levine's lab published a paper in Cell showing that beclin 1 can inhibit tumorigenesis and that it is expressed at decreased levels in human breast carcinoma. This study suggested that decreased expression of autophagy proteins may contribute to the development or progression of breast and other human malignancies. The lab went on to demonstrate that autophagy is a cellular pathway essential for Dauer development and life-span extension in C. elegans model (Science 2003). To sum up the connection between autophagy and longevity, they generated mutant mice in beclin 1 (Becn1F121A/F121A) that decreases its interaction with the negative regulator BCL2. Using this mouse model, they managed to prove that the disruption of the beclin 1-BCL2 complex is an effective mechanism to increase autophagy, prevent premature ageing, improve health span and promote longevity in mammals (Nature 2018).
In a 2005 study Levine's lab showed that Bcl-2 not only functions as an antiapoptotic protein, but also as an anti-autophagy protein via its inhibitory interaction with beclin 1. This anti-autophagy function of Bcl-2 helps maintain autophagy at levels that are compatible with cell survival, rather than cell death (Cell 2005). In human cancer, the unconventional signaling through the class I phosphatidylinositol 3-kinase (PI3K)-Akt axis is common. Levine's lab showed that beclin 1 is a target of the protein kinase Akt. Akt-mediated phosphorylation of beclin 1 operates in autophagy inhibition, oncogenesis, and the formation of an autophagy-inhibitory beclin 1/14-3-3/vimentin intermediate filament complex. (Science. 2012).
Levine's lab was also interested in how exercise affects autophagy; and they showed that acute exercise induces autophagy in skeletal and cardiac muscle of fed mice. This was proven by generating mutant mice that display normal levels of basal autophagy but are deficient in stimulus (exercise- or starvation)-induced autophagy to understand the role of exercise-mediated autophagy in vivo. These mice (termed BCL2 AAA mice) contain knock-in mutations in BCL2 phosphorylation sites that prevent stimulus-induced disruption of the BCL2-beclin-1 complex and autophagy activation. BCL2 AAA mice show decreased endurance and altered glucose metabolism during acute exercise, as well as impaired chronic exercise-mediated protection against high-fat-diet-induced glucose intolerance. Therefore, they demosntrated that exercise induces autophagy, that BCL2 is a crucial regulator of exercise-induced autophagy in vivo, and autophagy activation contributes to the advantageous metabolic effects of exercise (Nature. 2012).
A year later, Levine defined the molecular basis by which the epidermal growth factor receptor (EGFR) tyrosine kinase modulates autophagy. Binding of active EGFR to beclin 1 leads to its multisite tyrosine phosphorylation, enhanced binding to inhibitors, and decreased beclin 1-associated VPS34 kinase activity. EGFR tyrosine kinase inhibitor (TKI) therapy disrupts beclin 1 tyrosine phosphorylation and binding to its inhibitors and restores autophagy in non-small-cell lung carcinoma (NSCLC) cells with a TKI-sensitive EGFR mutation. In NSCLC tumor xenografts, the expression of a tyrosine phosphomimetic beclin 1 mutant leads to reduced autophagy, enhanced tumor growth, tumor dedifferentiation, and resistance to TKI therapy. This demonstrated that oncogenic receptor tyrosine kinases directly regulate autophagy , which contributes to tumor progression and chemoresistance (Cell. 2013).
In 2017, Levine was also involved in the discovery of the inner mitochondrial membrane protein, prohibitin 2 (PHB2), which acts as a crucial mitophagy receptor involved in targeting mitochondria for autophagic degradation. PHB2 is required for Parkin-induced mitophagy in mammalian cells upon mitochondrial depolarization and proteasome-dependent outer membrane rupture in mammalian cells. This study was important to demonstrate a function of prohibitin 2 that may underlie its roles in physiology, aging, and disease (Cell 2017).
In a most recent study, the Levine lab discovered a connection between inflammation and metabolism by showing that the innate immune receptor TLR9 interacts with beclin1 to activate AMPK in exercise-induced autophagy (Nature 2020).
Thanks to Levine's major contributions such as; the discovery of the mammalian autophagy gene, Becn1/beclin 1 and its role in tumor suppression, longevity, and antimicrobial host defense, as well as many of the studies on mechanisms underlying the regulation of autophagy; Levine demonstrated the general importance of autophagy and opened up the door for numerous new research and discoveries. Based on all her seminal discoveries, which cover a wide range of areas in autophagy going from basic molecular mechanisms to implementation in health and diseases, there is no doubt that Levine belongs to the very top of scientists and that she will always have an important role in the field of autophagy.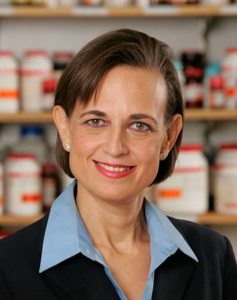 Dr. Beth Levine
Author: Petra Terešak